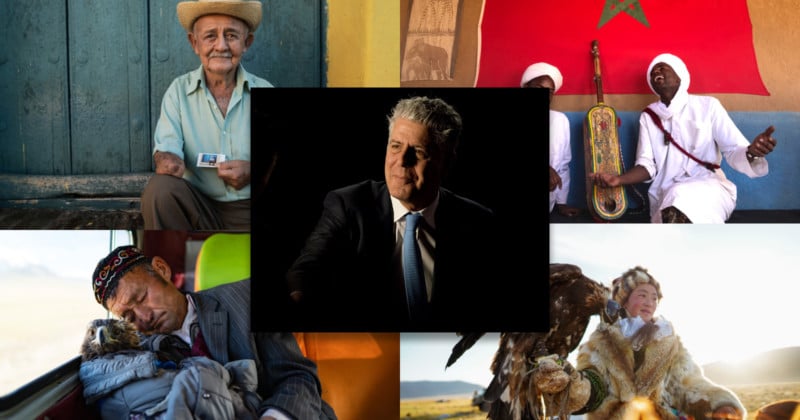 Today marks three years since the world lost one of its most interesting and likable public personalities. Anthony Bourdain was one of those unique souls that found a way to inspire people from all walks of life: Foodies, filmmakers, photographers, and casual travelers alike.
Even though it has been three years, for me, it still seems like yesterday that I was watching new episodes of Parts Unknown and No Reservations. To honor his legacy, a new documentary titled Roadrunner: A Film About Anthony Bourdain will be in theaters on July 16th (trailer above). While the film could never replace the man, it will be good to see Bourdain back on the screen, telling his life stories with his hallmark charismatic smile and contagious laugh.
Even though most of us never got the chance to sit and have a beer with Bourdain, it was easy for people to feel like they knew him. His no holds barred style of life and travel was an inspiration, especially for me as a travel photographer who thrives off experiencing and documenting cultures around the world.
While Bourdain was a joy to watch as he ate his way across the globe, perhaps what I most appreciated about him was his words. Whether it was what he had written in one of his many books and opinion articles or the wisdom he shared in a voice-over on his shows and interviews, Bourdain left behind a never-ending list of quotes that resonated with me as a travel photographer.
Below are 13 quotes from the Bourdain that have stuck with me and inspired me as a travel photographer, and I hope they can do the same for you.
"If you're twenty-two, physically fit, hungry to learn and be better, I urge you to travel – as far and as widely as possible. Sleep on floors if you have to. Find out how other people live and eat and cook. Learn from them – wherever you go."
Becoming comfortable in documenting people and cultures around the world isn't a skill that most photographers become good at right away. Of course, photographers improve their technical photography skills with practice, but like any photography genre, there are secondary skills that are critical to the process.
In travel photography, those secondary skills are confidence and the ability to work with people. Being in a foreign country where communication may be impeded due to language barriers, the photographer must know how to understand their surroundings, read the room, and most importantly, get to know the people and the cultures that they are documenting.
Having been to almost 40 countries, I feel like I am a seasoned traveler. However, I didn't get my first passport and international plane ticket until five years after the age Bourdain references. Looking back, I had wish I found my love of travel at an earlier age, as I had to learn how to both be a traveler and a travel photographer simultaneously. In this quote Bourdain is suggesting that the earlier you start traveling, the more you will enjoy it throughout your life. Most of us didn't have hefty bank accounts at 22 years old, so traveling at that age usually involves little luxury, which means you might not wall yourself off from meaningful experiences, as many luxury travelers might do.
Instead of sleeping at the Four Seasons, staying at a local homestay and working with a local non-profit can lead you to knowledge about the people and their communities that you otherwise might never have found otherwise. These are the experiences that can build a photographer's confidence and help them learn how to ethically document people and their cultures.
Even though the food was Bourdain's public-facing passion and what he was most known for, it's telling that he mentions "Find out how people live" before he mentions the culinary arts. Food will come and go, but the people and their cultures will always be there and at his core, that's what Bourdain was passionate about: the people.
13 Anthony Bourdain Quotes: Their Value to Me as a Travel Photographer