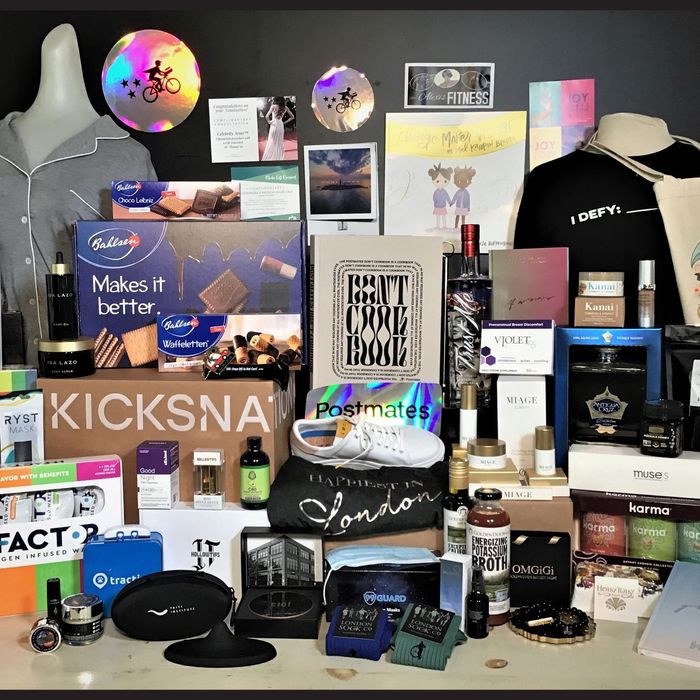 This year's $205,000 consolation prize.
Photo: Courtesy of Distinctive Assets
Last weekend's Oscars left us all with a few gifts — Daniel Kaluuya's homage to sex, Youn Yuh-jung being Youn Yuh-jung, and that clip of Glenn Close dancing to "Da Butt" — but some of stars went home with literal presents via an "Everybody Wins" gift bag from Distinctive Assets, a company that is unaffiliated with the Academy and in its 19th year of giving. While stars often receive gifts at other awards shows, the Oscars bags tend to attract special attention for their sheer opulence. Forbes estimated that this year's freebies — which include celebrity-trainer workout sessions, a liposuction procedure, a three-night retreat on a Swedish island, and a card for a commemorative gold NFT of Chadwick Boseman's head — total $205,000 a bag. For a chance at the exposure that a celebrity's name can bring (and the annual fascination over what expensive things the rich people got this year), brands pay thousands to donate their products and services if they are chosen to be featured in the bag. While the Academy is no longer involved with the annual gift-giving, that wasn't always the case. In fact, up until 2006, the organization played a key role in the gift-giving on Hollywood's biggest night.
Here's the full history of the lavish gifting tradition, including a tax dispute with the IRS, a Bette Midler award loss, a lawsuit over trademark infringement, and a man known as the "Sultan of Swag."
In 1989, Taylor Swift was born, George H.W. Bush was sworn in as the 41st president, and, according to Reuters, the Academy of Motion Picture Arts & Sciences was quietly beginning to give out thank-you gifts to the presenters and performers at its annual Oscars awards show. The practice continued for years, becoming increasingly competitive as brands (who were not charged a fee to donate) realized the power of celebrity exposure. One company told the LA Business Journal that having a gift certificate for spa services in the 2002 bag attracted an influx of high-profile customers, including Gwyneth Paltrow. For the 75th Academy Awards in 2003, ABC estimated the bags were worth $20,000 in merchandise. According to ABC, Best Supporting Actress nominee Queen Latifah shared her anticipation for the gifts with imdb.com ahead of that year's ceremony. "I don't care how much money you have," she said, "free stuff is always a good thing."
Eventually, the Academy transferred the responsibility of filling and securing the gifts to Sequoia Productions, the events company in charge of the Academy Awards Governors Ball. But the motion picture organization remained involved, Sequoia vice president Gary Levitt told the LA Business Journal in 2006. His team would narrow down hundreds of company requests submitted six months before the Oscars to a list of selections that Academy officials with final say would review. Finding out what the freebies were every year became an eagerly anticipated part of Academy Awards ramp-up coverage. According to the Business Journal, a donor that revealed their involvement before an agreed upon date would have their item removed from the basket.
At the same time that excitement was growing for the gifts, criticism was also building. Actor Ed Norton told New York Magazine he found the practice of giving expensive gift bags at award shows "disgusting and shameful," making celebrities look ridiculous and out of touch. By 2006, CNN Money reported that the value of the Oscars gift basket (which included hot items of the day, like a 60GB Apple iPod) had reached over $100,000, and the Internal Revenue Service finally took notice. "We expect the stars to pay their taxes just like the rest of us," IRS commissioner Mark…


Read More: A History of Distinctive Assets