Arlo Guthrie's rambling, spoken-word tune "Alice's Restaurant" is a Thanksgiving Day tradition on radio stations across the country. Over the course of about 18 minutes, the folk singer unfurls a true tale involving himself and his hippie friends in 1960s Western Massachusetts.
Now — more than 50 years after the iconic song hit the airwaves — its namesake has fallen on hard times. But Alice's friends have launched a crowdfunding campaign to help her stay in the only place she's ever really wanted to be: Provincetown on Cape Cod.
But first, it helps to find out how she got there.
How The Real Alice Became The Alice
When asked to introduce herself for our audio interview (which is standard procedure in radio journalism) Alice Brock didn't miss a beat. "Well, kids, this is Alice," she said, "the famous living-legend, Earth Mother, Alice of 'Alice's Restaurant.'"
The nearly 80-year-old's wry wit continued as she recalled how Guthrie immortalized her Stockbridge diner and the deconsecrated church where she once lived. In his song, the musician describes returning to Alice's home/crash pad after throwing a truckload of her trash off a cliff because the dump was closed for the holiday.
"Drove back to the church, had a Thanksgiving dinner that couldn't be beat, went to sleep, and didn't get up until the next morning when we got a phone call from Officer Obie," Guthrie recounted in his song.
"It's really true," Alice confirmed. When the real officer asked if she tossed the garbage illegally Alice replied, "No," then added, "but I know who did."
Guthrie was arrested for littering and Alice fielded the call to bail them out. "Who had 50 bucks?" she asked this reporter with a shrug. But the gang pitched in to come up with the cash. "I paid it in quarters and foreign coins," Alice said, "but I got them out."
The folk singer's friends were delighted when they heard his musical embellishment. "He kind of perfected it sitting around this table," Alice said in her kitchen. "We were all singing all kinds of songs. But that was great because it went on for so long, and it was a story, and we knew it. So it was like a song about us."
Then The Movie Came Along
According to Alice, the idea for a feature film based on the song wasn't great at all. She felt it was the Hollywood version of a hippie's life. "So not true," she said.
Alice said she didn't want to portray herself on the big screen. Instead, she took a part as an extra, along with her Berkshire friends. Actress Patricia Quinn was cast to play the fictionalized Alice. Even so, the real Alice said it was the movie — not the song — that made her a reluctant star.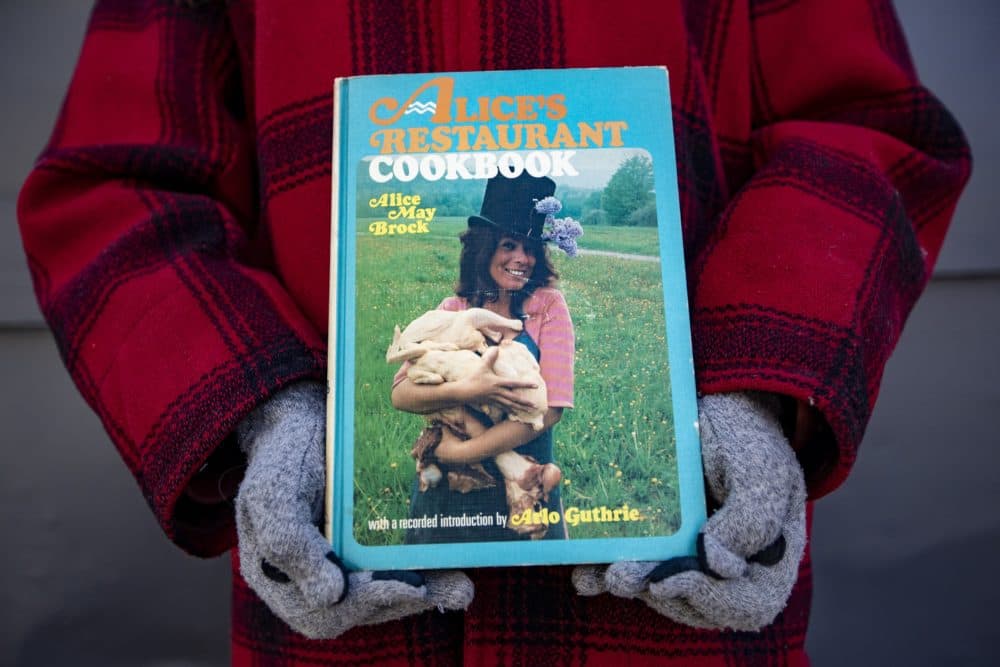 She ended up writing a spin-off "Alice's Restaurant Cookbook" and filled it with her playful recipes, words and illustrations. Then Alice went on a tour to promote the book and the film. She said she resented the fame that followed. "It was insulting because I still had a life that continued after the movie, and everybody had me locked into that character," she said. "And that was not my character at all."
In the end, Alice said she took home about $12,000 after haggling with director Arthur Penn about her compensation for participating in the production.
Back To The Kitchen
After the movie and closing her diner, Alice opened a larger restaurant called Alice's at Avaloch in 1976. It was located near Tanglewood, the Boston Symphony Orchestra's summer home in Lenox.
Alice hired her friends and created a kooky vibe there that included doing something called the Cabbage Samba. "We took out the outer leaves of the cabbage and we put them on our shoulders and our heads," she recalled, "and we danced around the kitchen."
But Alice also helped a lot of people in dire straits and rarely…


Read More: Arlo Guthrie's 'Alice's Restaurant' Is A Thanksgiving Tradition. But This Year