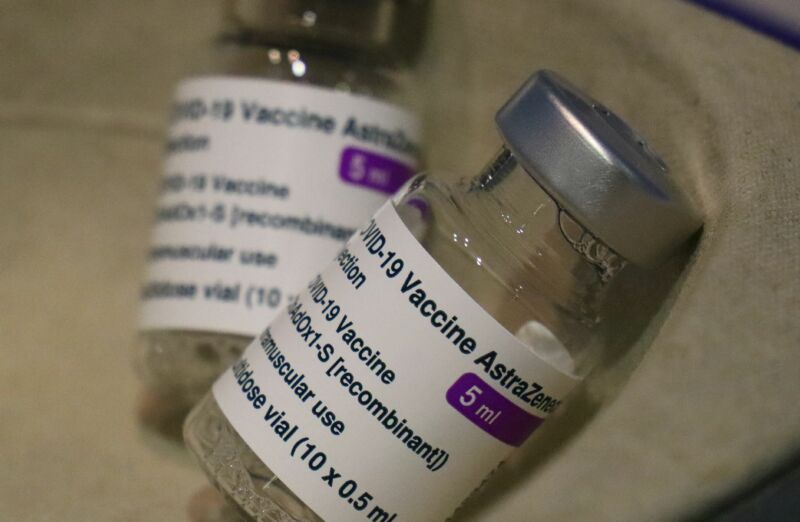 European medical regulators on Wednesday concluded that there is a strong link between AstraZeneca's COVID-19 vaccine and life-threatening conditions involving the unusual combination of blood clots and low levels of blood platelets.
As such, the conditions should be listed as a "very rare side effects" of the vaccine, according to the European Medicines Agency, a regulatory agency of the European Union.
The conclusion was based on the EMA's in-depth review of 86 blood-clotting events among around 25 million people vaccinated with the AstraZeneca vaccine in Europe and the UK. Of the 86 blood-clotting events, 18 people died. Most—but not all—of the cases occurred in women under the age of 60.
The events reviewed by the EMA included 62 cases of cerebral venous sinus thrombosis (CVST), a rare form of stroke in which a clot prevents blood from draining out of the brain. The remaining 24 cases involved splanchnic vein thrombosis, which involves blood clots in the veins that drain blood from the abdomen.
Beyond the 86 cases examined, the EMA estimated that there's a reporting rate of one case of the side effect in 100,000 people vaccinated.
Curious cause
Oddly, the clotting events have been accompanied by low levels of blood platelets, which are the blood cell fragments that stick together to form clots. Typically, low platelets lead to increased bleeding, not clotting. Regulators noted that this unusual combination resembles a condition called heparin-induced thrombocytopenia or HIT. In rare cases, patients who are given heparin—an anticlotting drug—see a drop in their platelets yet go into a hyperclotting state, which can lead to widespread clotting and death.
HIT develops because of an aberrant immune response. In a reaction to heparin that's not completely understood, some patients' immune systems produce antibodies that attack a common platelet protein called Platelet Factor 4, or PF4. This in turn triggers platelet activation and pro-clotting particles, leading to HIT.
Some researchers suspect that the blood-clotting events linked to AstraZeneca's vaccine may also be down to a similar berserk immune response—and it may be treatable. Extremely preliminary data—posted online but not yet published in a journal or peer-reviewed—hints that the rare condition in some vaccinees could be treated with nonheparin anticlotting drugs as well as a high-dose of immunoglobulin, which has been shown to inhibit platelet activation in HIT patients.
In its announcement Wednesday, the EMA noted that recognizing the early signs of blood clots and low platelets are critical, and getting specialized treatment quickly can avoid serious outcomes.
The EMA noted that recently vaccinated people should watch out for:
shortness of breath
chest pain
swelling in your leg
persistent abdominal (belly) pain
neurological symptoms, including severe and persistent headaches or blurred vision
tiny blood spots under the skin beyond the site of injection
As seen in people who develop HIT after heparin, the blood-clotting events and low platelets seen in vaccinees usually develop within two weeks of getting their first dose.
Though the EMA solidified the connection between the clots and the AstraZeneca vaccine, it still recommends using the vaccine. "The reported combination of blood clots and low blood platelets is very rare," the agency noted, "and the overall benefits of the vaccine in preventing COVID-19 outweigh the risks of side effects."
AstraZeneca drama
The conclusion follows weeks of drama around the vaccine, in which more than a dozen countries that had…


Read More: AstraZeneca vaccine linked to rare blood clots, EU regulators conclude